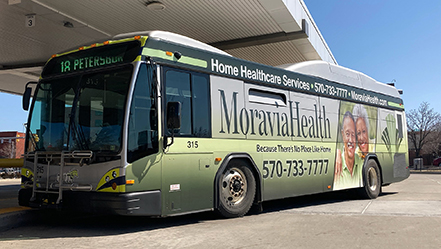 There's no better way to showcase your services and products than through public transit advertising. It is a great way to reach your customers and clients because your business or organization will have high visibility every day.
COLTS has opportunities for advertising on both the interior and exterior of our buses and on our bus shelters.
Exterior ads are literally "moving billboards." Your business can reach not only COLTS customers, but everyone walking on the street and driving in their vehicles.
As per our Advertising Policy, all third-party advertisements must include the following disclaimer: "The views and/or opinions expressed by the Advertiser in this Advertisement are not necessarily those of COLTS."